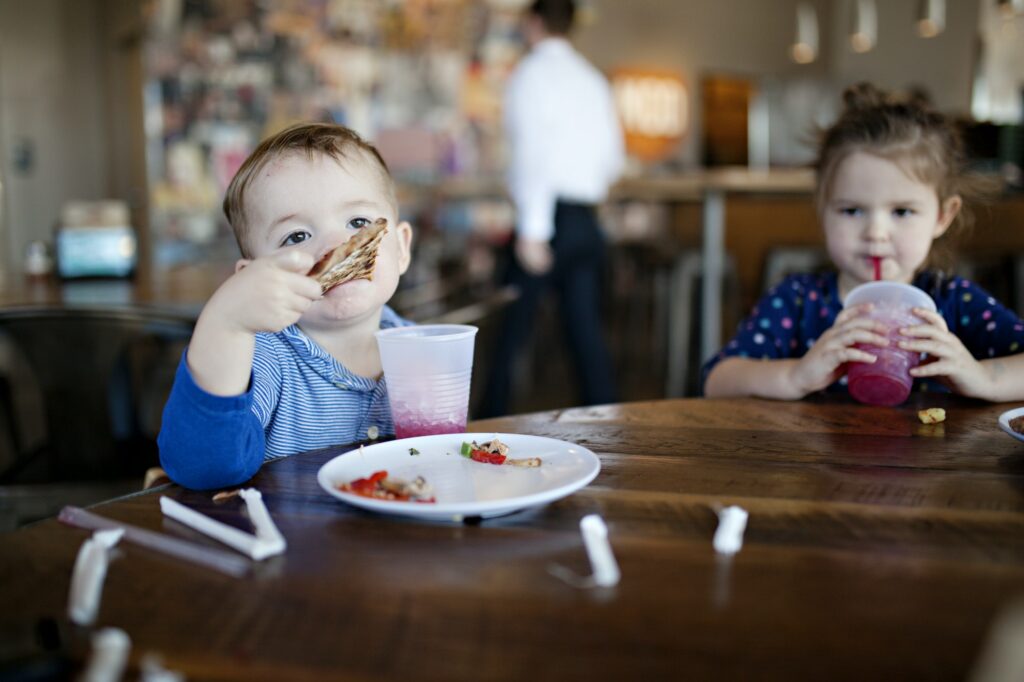 Phoenix is one of the best places to raise a family in the country, with great schools, a healthy job market, and plenty to do.
If you're looking for some family-friendly restaurants in Phoenix and the surrounding area, we've got your back. Check out our list of 7 family friendly restaurants near Phoenix we think you've just got to try.
Top 7 Family Friendly Restaurants in Phoenix
1. MacAlpine's Diner & Soda Fountain
Check out MacAlpine's Diner and Soda Fountain for nostalgic blast from the past and a great meal. Opened in 1929, this family-owned restaurant has maintained its retro charm and is sure to delight the youngest to the oldest in the family.
Whether you want to stop by for a meal or just a treat at the soda fountain, MacAlpine's won't disappoint.
2. The Teapot
For coffee and a quick bite, check out The Teapot, which calls itself "a family-friendly coffee shop & event space." For $2, parents can buy a play ticket for kids to enjoy all the fun while they enjoy a peaceful coffee, tea, or breakfast in a cozy house or in the garden with the Arizona sunshine.
It is located in a renovated house from 1906, with a gorgeous garden and back yard that has plenty of safe space for kids to roam. There are toys inside to keep kiddos entertained while you enjoy your breakfast, and kid-friendly items on the menu, too.
3. Luci's at the Orchard
Luci's at the Orchard combines all the best of a classy restaurant and a playground, with a delicious menu that includes cocktails and from scratch entrees for parents and a splashpad and kid's menu with familiar fare for the little ones.
Luci's is open from 7:00 AM to 8:00 PM every day, so you can get early coffee, breakfast, brunch, lunch, or dinner no matter what kind of nap schedule the family is on.
4. Rustler's Rooste
For a western style steakhouse that will thrill parents and kids alike, check out world famous Rustler's Rooste in Phoenix. Parents can enjoy an awesome steak dinner while kids have plenty of entertainment to keep them engaged, like the indoor slide or the giant longhorn at the entrance.
Rustler's Rooste also has live music, impressive views, and space to rent for special events. If you visit and know you'll want to be back, you can join the Kid's Club, where kids under 10 can pay just $7 for a year's membership that includes a free kid's meal with any entree purchase.
5. Organ Stop Pizza
If you don't mind a little drive east of Phoenix, Organ Stop Pizza in Mesa offers dinner and entertainment that makes for a great family night out.
Order some delicious pizza for the family and enjoy live entertainment on a 6,000 pipe Wurlizter organ. To hear a specific tune, write down a request and wait to hear it performed on stage. If kids are still looking for more fun, Organ Stop has an arcade and ice cream parlor to round out the night.
6. Morning Squeeze
Morning Squeeze is a breakfast and brunch restaurant designed with the pickiest eaters in mind. Kids can choose from menu items with names like "I'm Not Hungry" and "I Want To Go Home."
Kid's meals also come with a coloring page that turns into a puzzle and a colorable sticker designed by local artist Jayarr Steiner.
Parents aren't forgot at Morning Squeeze, either. You'll have your choice from a menu that combines classic diner dishes with fresh, gourmet takes on your brunch favorites including sweet and savory entrees. There's a long cocktail menu, a variety of coffee drinks, and smoothies that can become protein shakes, too.
7. Someburros
Located  in Scottsdale, Someburros is a family-owned restaurant designed with guests of all ages in mind.
The kid's menu features a variety of options for less than $5, and all kid's meals come with Someburro's famous Burro ears so the youngest guests can dress up like Nacho, Someburro's mascot. Parents will enjoy the authentic Mexican menu and fresh margaritas.
To learn more about the Phoenix area or explore real estate in and near Phoenix, contact us today! We're ready to help.